What are Color Stars?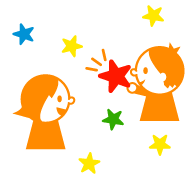 Color stars are a variation of Hatena stars that you can use to express your feelings about something you like. There are green, red, blue and other rare types of color stars. You can buy a 'Color Star Box', and depending on the type of box that you purchase you might get lucky and receive some rare stars! You can earn color stars for your activities on Hatena's online services or purchase them.
Add color stars to entries that you like as a gift, or just to add some color and call attention to the things that you like.
Buy
WebMoneyによるカラースターの購入は 2020/6/2 をもって廃止いたしました。くわしくはこちら